CRC Day One Wrap
Life got to the top of their pool, barely. Colleen McCloskey, photo.
Pool Play is over at the Men's CRC Saturday and the teams that have been there before showed their class.
Dartmouth survived three close games and edged Utah with a late try from Ryan McGuire to win 19-15. That put the Big Green in at 3-0, and shattered Utah's hopes of running the table in the first day. Chad Gough continued to play hard throughout but the Utes couldn't hold on, and hadn't scored big enough wins to make the top eight.
Photos by Colleen McCloskey for Goff Rugby Report.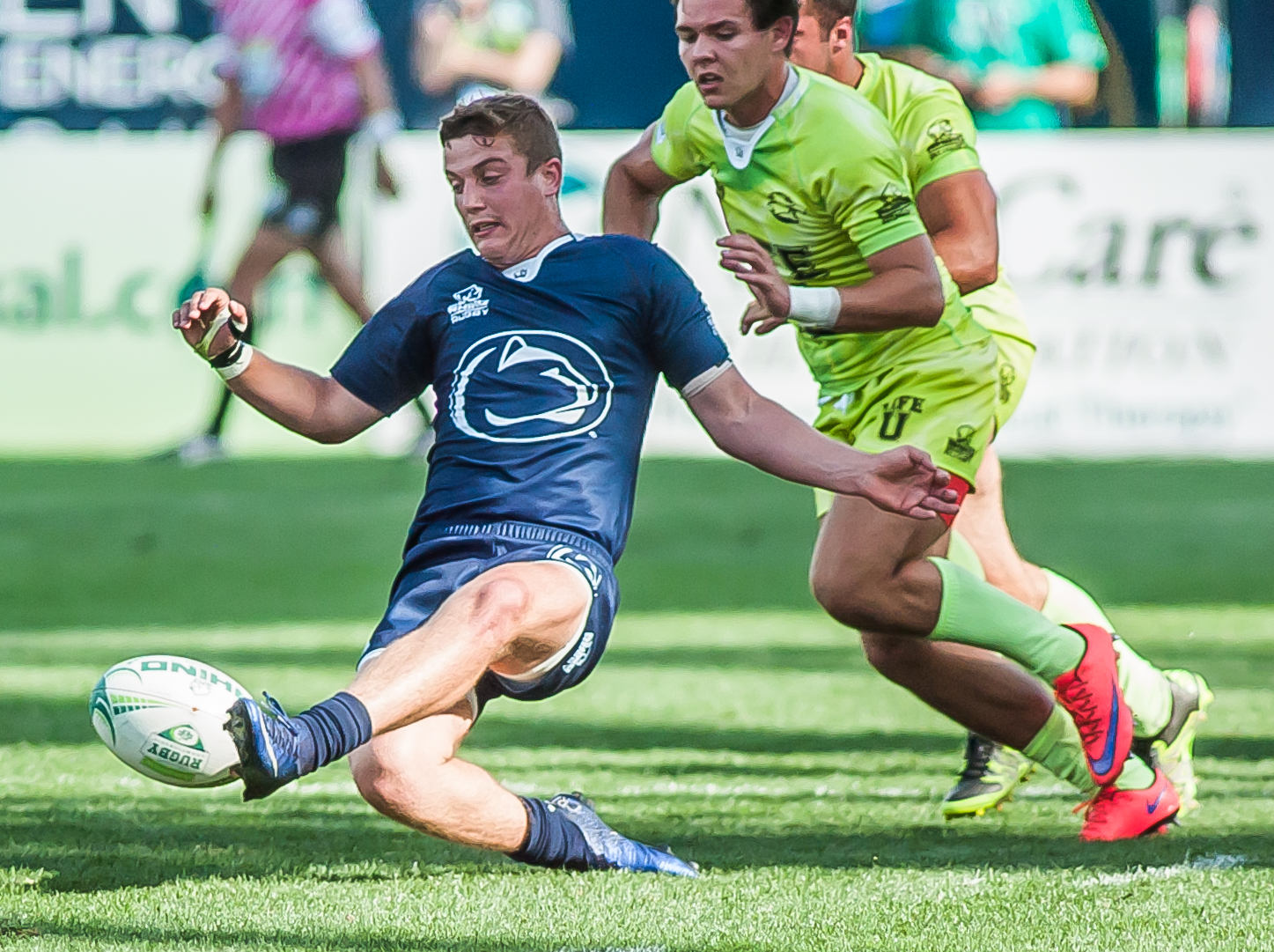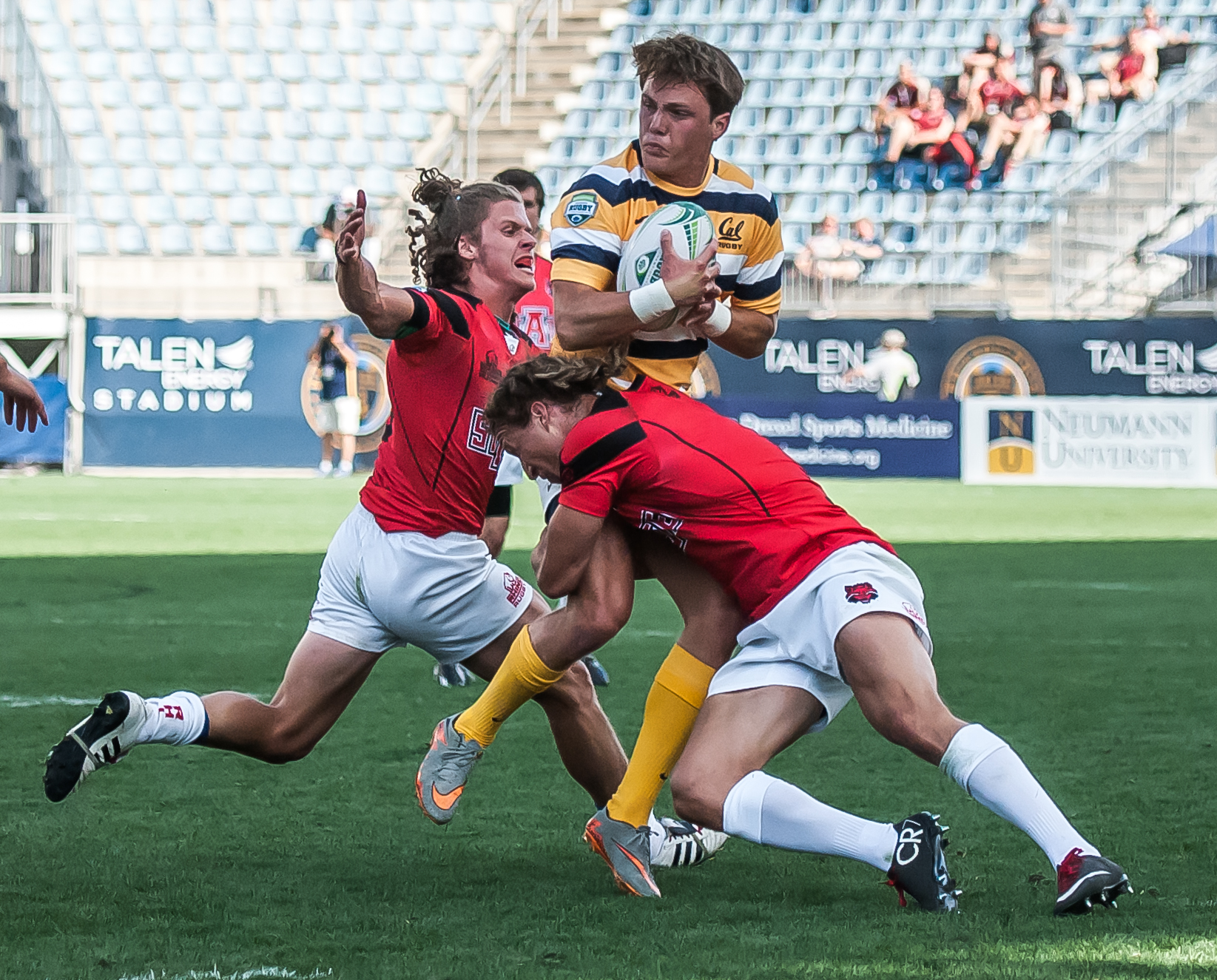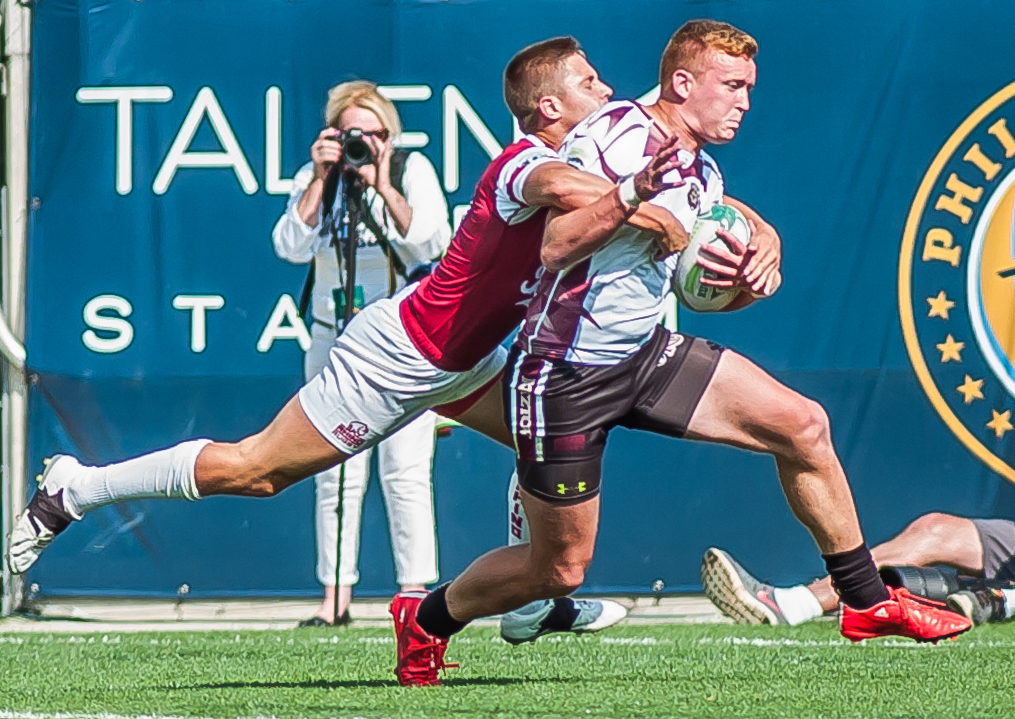 Cal and Arkansas State did score big in their first two games, and clashed in the final round against each other. In the first half Cal pinned a somewhat slow-looking ASU team in their 22, forced turnovers, and scored three times - two from Jesse Milne.
Arkansas State got a nicely-taken coast-to-coast try at the end of the first half, and then scored another to make it 19-14 with time winding down. All ASU really needed to do was keep the ball and work their pattern to win the game. Instead, Patrick Barrientes ripped the ball free in the tackle and ran 90 meters to seal the game for Cal 24-14.
Kutztown was easily the class of Pool B  where the other three teams went 1-2. A disappointing Indiana team was on the business end of a bizarre play - two IU players put in a nasty tip tackle on KU's Wes Hartmann. That earned a yellow card … for an Indiana player who was not involved. At least the yellow card was warranted, although Indiana managed to score while shorthanded.
Still Kutztown survived their toughest game of the day 17-12 to go 3-0.
Arizona was superb in their pool, showcasing perhaps the most champagne-like passing of any team. Ben Joseph seemed to be the man on the spot more than anyone, and scored two tries in a defeat of a St. Joseph's squad that played much better Saturday than they have much of the spring.
UCLA looked totally in control early with the Barry brothers working their magic and the team's ball-handling about as good as anyone's. But they fell behind 7-0 to USC in the final game of the day, only to come back to win it and go 3-0. Wisconsin did well to go 2-1 in pool E.
And then we come to Pool D, where Life University just didn't get it together and Virginia Tech played some inspired defense, leading to a 7-5 upset win for the Hokies. Va Tech went on to slam Drexel, but before then had seen a big letdown in a 29-12 loss to Penn State.
So that set up a final game between Penn State and Life. Virginia Tech finished 2-1 but their points difference ruled them out of 1st place. If Penn State won, they'd be 3-0 and in the quarterfinals, while Life would be looking at the consolation rounds for the first time ever. However, Life were more patient in this game, played good defense, and nudged ahead 5-0, then 10-0, and then 17-0. Penn State scored at the end, but it wasn't enough and Life won the game, tied PSU and Va Tech at 2-1, and won the pool on points difference.
So the six pool-winners are (in order of seeding): UCLA, Cal, Arizona, Kutztown, Dartmouth, and Life. All but UCLA have made at least one CRC final, with UCLA being a perennial semifinalist. Arkansas State and Penn State were the two best second-place teams, with ASU finishing 2-1 with a +52 points difference, and Penn State finishing 2-1 with a +22, just one point ahead of St. Joe's. 
St. Joe's was perhaps the surprise of the tournament, having not won as many tournaments in their spring as they normally do. But they put most of it together quite nicely on Saturday.
For Goff Rugby Report's own prognostications, our pick of Navy as being strong was flat-out wrong, as Navy went a very disappointing 0-3. Virginia Tech, Wisconsin, and Notre Dame were all teams that faired a little better than expected.
So, too, perhaps, did Arizona.
The second eight in the playoffs are (in order): St. Joe's, Wisconsin, Utah, Indiana, Virginia Tech, Notre Dame, Temple, and either Army or South Carolina (Army if the tiebreaker is points scored).
The bottom eight are (in order): Army or South Carolina, then Maryland, Boston College, Clemson, Navy, Michigan, Drexel, and Tennessee
Standings and scores below.
| | | | | | | | |
| --- | --- | --- | --- | --- | --- | --- | --- |
| Pool A | W | L | T | PF | PA | Pd | Pts |
| U. of California | 3 | 0 | 0 | 96 | 12 | 84 | 9 |
| Arkansas State | 2 | 1 | 0 | 76 | 24 | 52 | 7 |
| Maryland | 1 | 2 | 0 | 22 | 69 | -47 | 5 |
| Tennessee | 0 | 3 | 0 | 14 | 103 | -89 | 3 |
|   |   |   |   |   |   |   |   |
| Pool B | W | L | T | PF | PA | Pd | Pts |
| Kutztown | 3 | 0 | 0 | 58 | 34 | 24 | 9 |
| Indiana | 1 | 2 | 0 | 46 | 45 | 1 | 5 |
| Notre Dame | 1 | 2 | 0 | 43 | 55 | -12 | 5 |
| Boston College | 1 | 2 | 0 | 45 | 58 | -13 | 5 |
|   |   |   |   |   |   |   |   |
| Pool C | W | L | T | PF | PA | Pd | Pts |
| Arizona | 3 | 0 | 0 | 51 | 5 | 46 | 9 |
| St. Joseph's | 2 | 1 | 0 | 52 | 31 | 21 | 7 |
| Army | 1 | 2 | 0 | 26 | 55 | -29 | 5 |
| Navy | 0 | 3 | 0 | 22 | 60 | -38 | 3 |
|   |   |   |   |   |   |   |   |
| Pool D | W | L | T | PF | PA | Pd | Pts |
| Life | 2 | 1 | 0 | 68 | 14 | 54 | 7 |
| Penn State | 2 | 1 | 0 | 63 | 41 | 22 | 7 |
| Virginia Tech | 2 | 1 | 0 | 43 | 41 | 2 | 7 |
| Drexel | 0 | 3 | 0 | 19 | 97 | -78 | 3 |
|   |   |   |   |   |   |   |   |
| Pool E | W | L | T | PF | PA | Pd | Pts |
| UCLA | 3 | 0 | 0 | 95 | 7 | 88 | 9 |
| Wisconsin | 2 | 1 | 0 | 55 | 43 | 12 | 7 |
| South Carolina | 1 | 2 | 0 | 24 | 53 | -29 | 5 |
| Michigan | 0 | 3 | 0 | 5 | 76 | -71 | 3 |
|   |   |   |   |   |   |   |   |
| Pool F | W | L | T | PF | PA | Pd | Pts |
| Dartmouth | 3 | 0 | 0 | 57 | 34 | 23 | 9 |
| Utah | 2 | 1 | 0 | 45 | 40 | 5 | 7 |
| Temple | 1 | 2 | 0 | 38 | 50 | -12 | 5 |
| Clemson | 0 | 3 | 0 | 33 | 52 | -19 | 3 |
| | | | |
| --- | --- | --- | --- |
| Pool E | UCLA | 19 - 7 | South Carolina |
| Pool E | Wisconsin | 26 - 0 | Michigan |
| Pool C | Army | 21 - 10 | Navy |
| Pool D | Life | 17 - 7 | Penn State |
| Pool A | U. of California | 24 - 12 | Arkansas State |
| Pool B | Indiana | 12 - 17 | Kutztown |
| Pool E | Michigan | 0 - 38 | UCLA |
| Pool C | Arizona | 14 - 5 | St. Joseph's |
| Pool B | Boston College | 14 - 24 | Notre Dame |
| Pool F | Dartmouth | 19 - 15 | Utah |
| Pool D | Drexel | 7 - 24 | Virginia Tech |
| Pool F | Clemson | 12 - 19 | Temple |
| Pool A | Maryland | 22 - 14 | Tennessee |
| Pool E | South Carolina | 5 - 29 | Wisconsin |
| Pool B | Boston College | 10 - 22 | Kutztown |
| Pool B | Indiana | 22 - 7 | Notre Dame |
| Pool C | Army | 5 - 25 | St. Joseph's |
| Pool C | Arizona | 17 - 0 | Navy |
| Pool A | U. of California | 31 - 0 | Maryland |
| Pool D | Drexel | 12 - 27 | Penn State |
| Pool D | Life | 5 - 7 | Virginia Tech |
| Pool A | Tennessee | 0 - 40 | Arkansas State |
| Pool F | Temple | 14 - 21 | Utah |
| Pool F | Clemson | 14 - 21 | Dartmouth |
| Pool C | Navy | 12 - 22 | St. Joseph's |
| Pool C | Arizona | 20 - 0 | Army |
| Pool E | UCLA | 38 - 0 | Wisconsin |
| Pool E | Michigan | 5 - 12 | South Carolina |
| Pool D | Penn State | 29 - 12 | Virginia Tech |
| Pool B | Kutztown | 19 - 12 | Notre Dame |
| Pool B | Boston College | 21 - 12 | Indiana |
| Pool D | Drexel | 0 - 46 | Life |
| Pool A | U. of California | 41 - 0 | Tennessee |
| Pool A | Arkansas State | 24 - 0 | Maryland |
| Pool F | Clemson | 7 - 12 | Utah |
| Pool F | Dartmouth | 17 - 5 | Temple |