Rugby NJ Hosts Payne, College Fair
Rugby NJ Hosts Payne, College Fair
The New Jersey SBRO recently hosted a Friday night Town Hall Event with USA Rugby CEO, Dan Payne, as the featured guest.
Moderated by Matt McCarthy from Rugby Wrap Up, and held at the iconic Yogi Berra Museum on the campus of Montclair State University, the event featured a spirited discussion with Dan Payne, USA Women's Eagle and New Jersey youth rugby alum, Tess Feury, and a packed audience.
Boys and girls working out during the combine.

| | |
| --- | --- |
| | |
On Sunday, the 2nd annual College Fair and Rugby Combine took place at the Sportscare Performance Institute in Whippany, NJ.   After having measurables of height, weight, hand size and wingspan recorded, 106 high school rugby players participated in the five station combine that consisted of a laser timed 40 yard dash, a seated medicine ball throw, a vertical jump, a 5-10-5 shuttle and the Yo-Yo test. All statistics were collated by the SportsCare staff and will be shared with the players and interested college coaches, as well as used to identify early prospects for the state RCT and High Performance teams.   
There were 45 college programs represented at the college fair (pictured below), including one from the United Kingdom. Besides coaches, many of the schools had admissions representatives and alumni on hand to speak to the players and families. College coaches, players and parents were all impressed with the day.   Said St. Bonaventure University men's coach, Tui Osborne, "This was a fantastic event. Every state organization should run something like this."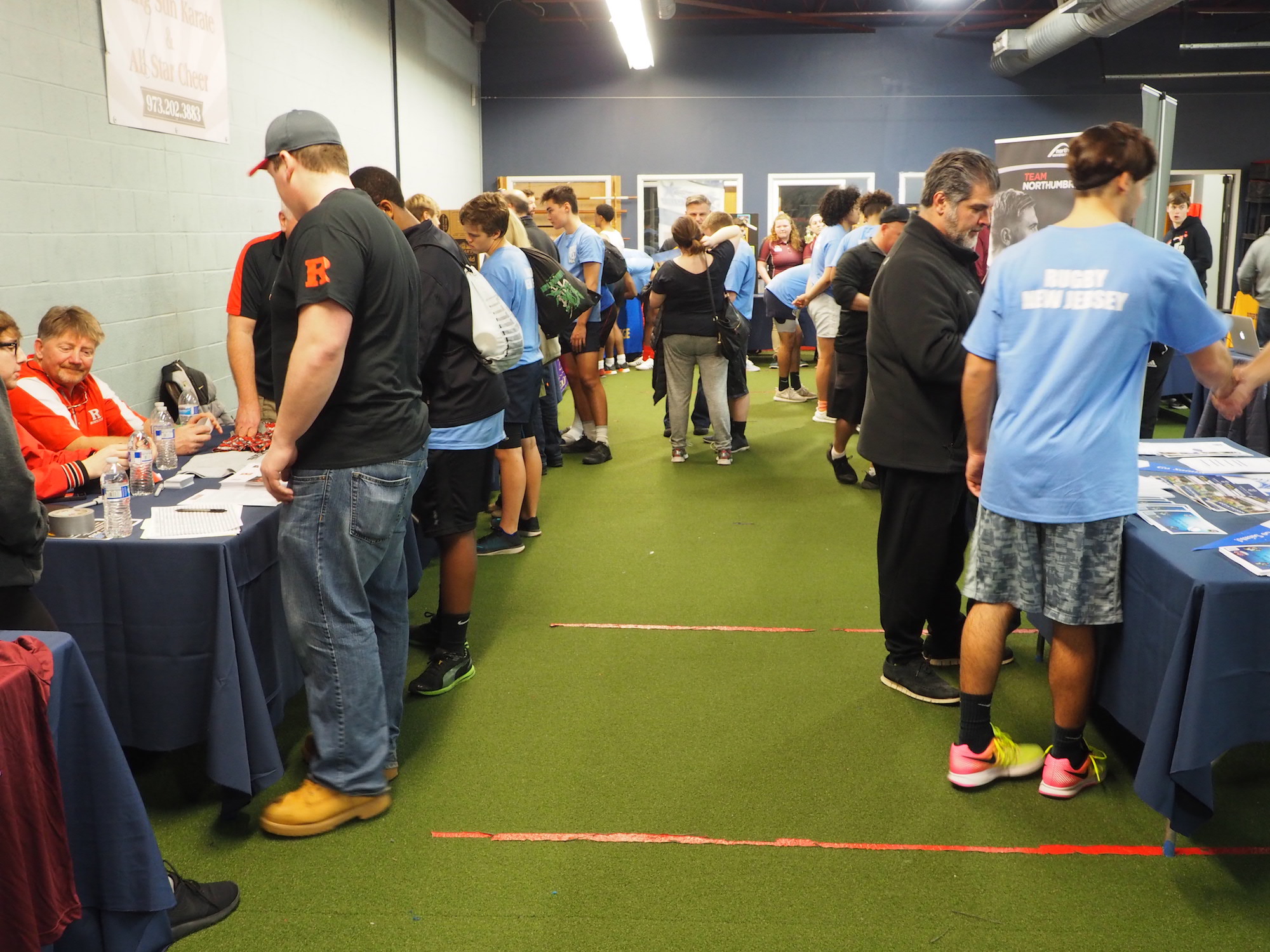 A List of Colleges and Universities in Attendance:
| | |
| --- | --- |
| Men's | Women's |
| American International College | American International College |
| Binghamton University | Binghamton University |
| Brown University | Kutztown University |
| Colgate University | LIU Post, Brookville, NY |
| Drew University | Molloy College |
| Fordham University | Monroe College |
| Furman University | Mount St. Mary's University |
| Iona College | Northumbria University UK |
| Kutztown University | Notre Dame College |
| Monroe College | Penn State University |
| Montclair State University | Princeton University |
| Mount St. Mary's University | Rutgers University |
| New Jersey Institute of Technology | Sacred Heart University |
| Northumbria University UK | Saint Michaels College |
| Notre Dame College | St. Bonaventure University |
| Penn State | Thomas More College |
| Princeton University | West Point Military Academy |
| Rowan University | York College of Pennsylvania |
| Rutgers University |   |
| Saint Joseph's University |   |
| St. Bonaventure University |   |
| Susquehanna University |   |
| Thomas More College |   |
| Towson University Men's Rugby |   |
| University at Albany |   |
| West Point Military Academy |   |
| Wheeling Jesuit University |   |